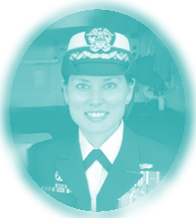 ABOUT TEE


Captain Teresa Elaine Elders was an inspirational woman who we sadly lost too soon. Teresa was a warrior, a mother, a patriot, a wife, a scholar, a daughter, an athlete, and the most of loyal of friends. She was always smiling, always trying her best, and always bringing people together.

Born on January 17, 1974 in San Antonio, TX, to father, Telford, and mother, Min Elders, Teresa mostly grew up in Swedesboro, NJ, after living in Japan and Germany in her early years. She graduated as valedictorian from Kingsway High School and was New Jersey Junior Miss 1992.

After graduating high school Teresa received a congressional appointment to the United States Naval Academy. As a Midshipman, she was the Drum & Bugle Corps Commander and Fourth Battalion Commander, graduating with honors in May of 1996 with a Bachelor's of Science degree with an English Major. Upon graduation, and because of her superior performance at USNA, she was selected to attend the Royal Military College of Canada to read for a Master of Arts degree in War Studies in 1998.

Throughout her career as a US Navy Surface Warfare Officer, Teresa advanced quickly through the ranks and achieved many accolades and awards, including the highly respected Stephen Decatur Award for Operational Competence in 2005, having served admirably as the Operations Officer in USS HIGGINS and USS PRINCETON on operational deployments to the Persian Gulf. During a 22-year career, she achieved the rank of CAPTAIN and her final assignment was as Commanding Officer of USS CAPE ST GEORGE (CG 71), a guided missile cruiser.

Teresa married David McCue on December 22, 2005, and they have a daughter Rachel Elenor, born August 27, 2009, who is just like her mother; intelligent, compassionate, athletic, and driven. Teresa's interests included running, completing triathlons, traveling, reading, and cooking, all of which she did with passion and enthusiasm. Teresa was an inspiration and positive influence on all she encountered.

When diagnosed with ovarian cancer in 2013, Teresa remained dedicated and focused on her profession, family, friends, and in her will to fight her illness. She remained a brave, inspirational, iron-willed woman.

Teresa Elaine Elders sadly passed away on April 15, 2018 in San Diego, CA at the age of 44, after a 5 year battle with ovarian cancer. But her inspiration lives on through the Captain Teresa E Elders Foundation.